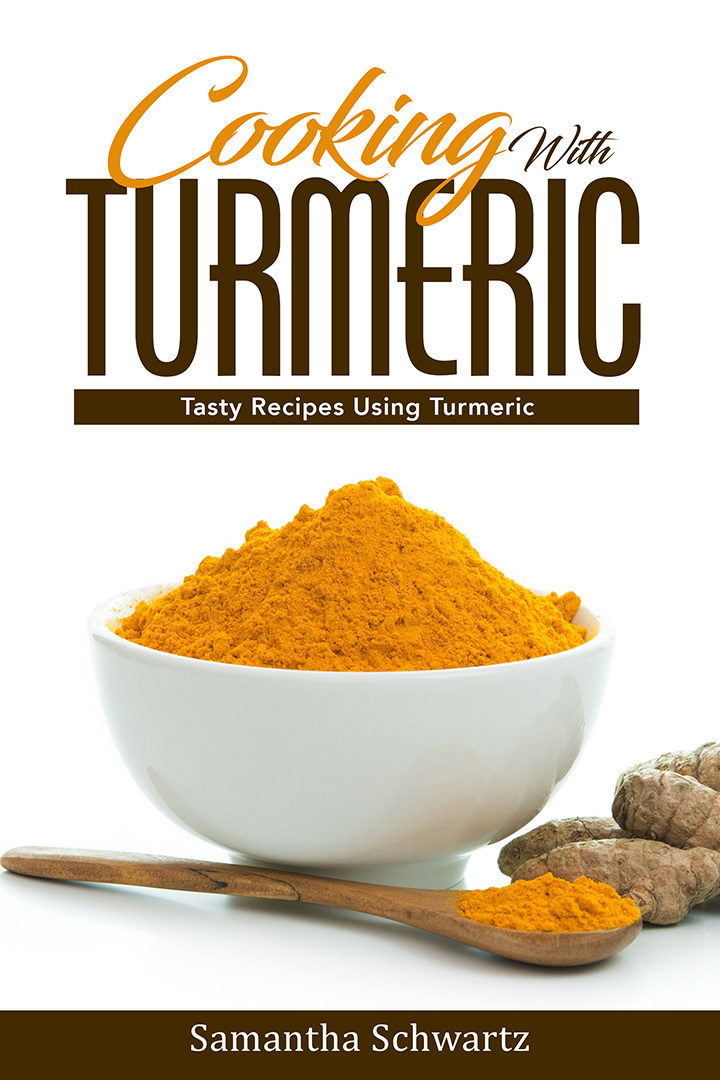 Turmeric has become one of the most trendy spices in use today, which also has many healthy and medicinal uses. In Cooking With Turmeric, discover over 50 unique recipes from soups to snacks, and from drinks to dinners where Turmeric is the star! With its mild aroma and with scents of orange or ginger, it has a pungent, bitter flavor, especially suited to savory recipes.
Often found in south Asian cuisines, you'll discover a whole new world of flavors and aromas in each recipe that will fill your kitchen with warmth and deliciousness.
Table of Contents
Soups
Herb Broth With Spicy Pan-Fried Shrimps
Pineapple And Pepper Soup
Sweet Potato Soup With Pistachio Cream
Carrot, Ginger And Turmeric Soup
Vegetable Turmeric Soup
Leek, Potato, Carrot And Turmeric Soup
Red Lentil Soup With Lemon
Turmeric And Broccoli Soup
Turmeric And Ginger Soup
Turmeric Soup
Main Courses
Salmon With Cucumber, Yogurt Sauce And Carrot Salad
Red Curry
Marinated Spicy Lamb Chops With Yogurt
Honey And Turmeric Pork With A Beet And Carrot Salad
Aleppo Pepper, Turmeric With Grilled Clams And Lime Butter
Moroccan Chicken With Lemons
Indian Tomato Chicken
Cod And Clementine Curry
Mussel, Basil And Chili Linguine With Turmeric Cream Sauce
Vegetables In Turmeric And Rice Vinegar
Spiced Lamb With Couscous Salad
Side Dishes
Spiced Pomegranate Rice
Ginger And Lime Cauliflower
Greens And Grilled Eggplant With Spiced Yogurt
Spiced Jasmine Pilaf Rice
Corn And Coconut Curried Rice
Spiced Yellow Dal With Rice
Cauliflower, Potato, Onion And Coriander Curry
Spring Green With Spiced Turnips
Broccoli Salad With Spicy Vinaigrette
Caramelized Parsnips With Baby Onions
Snacks
Cauliflower Cake
Herb Frittata, Persian Style
Salmon Tikka, Bite Size
Butternut Squash Spicy Wedges
Cauliflower Deep Fried In A Spicy Herb Batter
Chicken Liver Wraps With Spice
Spicy Roasted Cashews
Turmeric Scones
Healthy Scrambled Eggs
Banana Chips
Drinks
Iced Turmeric Latte
Tropical Ginger, Turmeric And Carrot Smoothie
Turmeric And Ginger Tonic With Chia Seeds
Turmeric Tonic
Ginger And Turmeric Tea
Coconut Smoothie With Turmeric And Clementine
Turmeric Juice
Turmeric Milk
Turmeric Ginger Brew Kefir Soda
Hot Chocolate
Categories: Cookbooks
Sorry, comments are closed for this item.