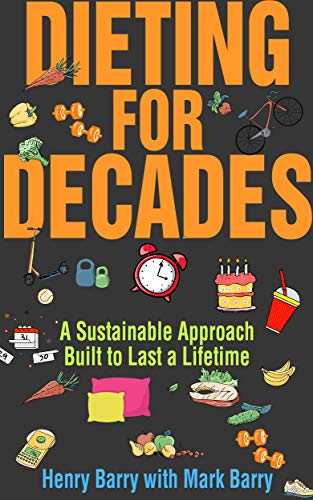 Do you feel like you spend your entire life as a slave to your diet? Are you able to get results but struggle to maintain them? Have you been slowly gaining weight as you get older that you are unable to lose?
You're not alone. Despite the hundreds of diet books published every year, over half of America remains overweight, and global obesity rates are on the rise. Even many people who are a healthy weight follow overly complicated, miserable diets. Most people focus on the wrong things and work harder than they need to in pursuit of fitness.
It doesn't have to be that way.
Dieting for Decades shares the lessons learned on the fitness journeys of a father and son in very different life stages: Henry, in his 20s, and Mark, in his 50s, and how they found ways to build simple, effective dieting systems that let them spend more time living and less time stressing about dieting.
In this book, you'll learn:
-Why most people's approach to dieting is harder than it needs to be
-How to create and maintain long-term weight loss momentum
-Why dieting is incredibly unfair and what to do about it
-How walking can actually be a better form of exercise than running
-A repeatable way to trick your body into eating less unhealthy things
-Why sleep matters more than you think, and how to improve it
-How to use hunger to your advantage
-The truth about what foods matter and what foods don't
-How to reduce damage done by buffets and holidays
-Ways to adapt your diet around unexpected cheat meals
-Easy rules to master grocery stores and cooking
-How to set up a system to repeat your success over and over again
Dieting for Decades is a book for people who hate diet books that combines behavioral psychology with a practical business mindset to help you build a "set it and forget it" diet solution made for the real world and all its temptations. This will help you build a system flexible enough to handle anything life throws at you.
Categories: Cookbooks
Sorry, comments are closed for this item.