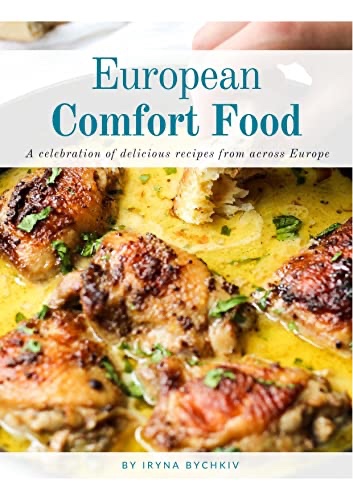 Take a culinary trip through Europe with an all-new collection of 30 European comfort food recipes with a modern twist.
Iryna Bychkiv was born in Ukraine, a former post-Soviet country. Growing up in a typical Ukrainian family, she witnessed firsthand how food was prepared and effortlessly transformed into incredibly delicious creations. While traveling the Europe Iryna discovered that comfort food was an essence of European cuisines.
This book is a celebration of the delicious recipes Iryna fell in love with while traveling across Europe. Her hope is when you prepare a dish from this collection, you'll want to make it again. All the recipes are different, yet so comforting and unbelievably delicious. Take out your apron, pour a glass of Merlot, and enjoy the beautiful aroma that will eventually fill your kitchen.
Are you a cooking enthusiast willing to discover and try new recipes?
Have you ever wanted to try famous European dishes without traveling to Europe?
Europe is not only famous by the rich history and breathtaking architecture but also by its famous food that people from all around the world get addicted to.
In this simple and comforting e-book, Iryna shares easy but mouthwatering recipes that are sure to become your family's favorite.
In European Comfort Food you'll find:
Hearty soups that will leave you full and satisfied for hours; I'll teach you how to make the best Borscht ever;
Rich and flavorful entrees like French Mustard Chicken or Italian Risotto Puttanesca, perfect for family dinner or entertaining;
Classical European desserts that are so popular at Christmas like Danish Risalamande or Dutch Banket. You'll want to make them all year round
European Comfort Food cookbook is a glimpse into a delicious world of European cooking.
All recipes are organized by meal types. The ingredients are simple and you can find them in most grocery store.
Categories: Cookbooks