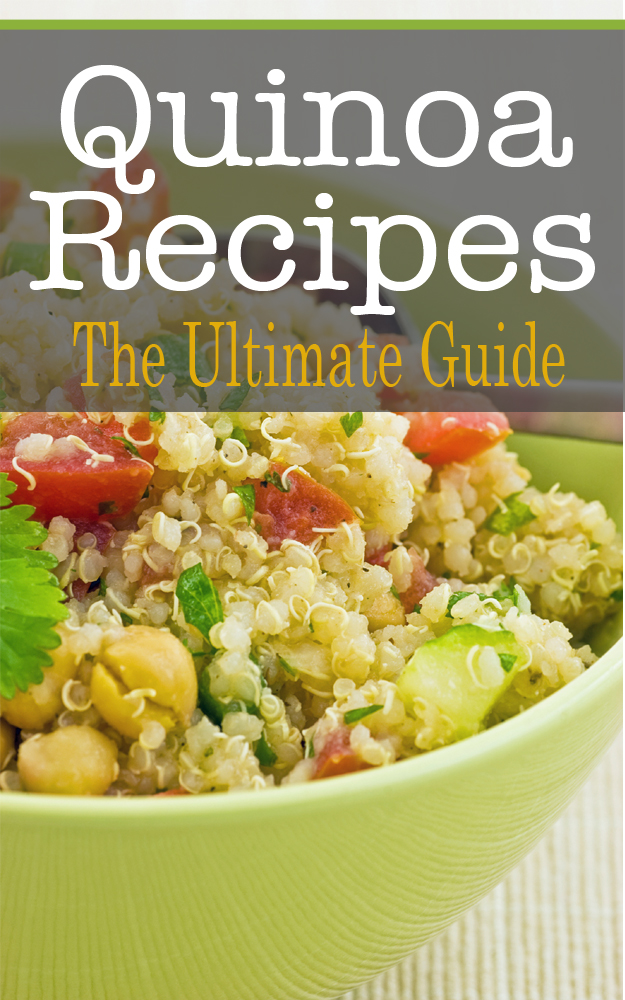 * The Ultimate Quinoa Guide * One of the latest superfoods to be touted by health fiends and the like is quinoa. And with good reason too. Quinoa is stocked with life-sustaining nutrients all across the board, including all eight essential amino acids. There are other highly beneficial compounds, vitamins and minerals in this food. We have collected 50 of the most delicious and best selling recipes from around the world. Enjoy! – DID YOU KNOW – Quinoa is a great cholesterol-free and low-fat source of protein for vegetarians and vegans. Quinoa is a great source of iron and fiber. Quinoa is gluten-free and considered good for digestion.
Table of Contents: Quinoa Recipes
1. Quinoa with Cabbage and Parsley Soup
2. Quinoa with Cranberries and Apricots Stuffing
3. Quinoa with Corn Kernels and Cilantro
4. Quinoa Flavored Meatloaf with Brown Sugar Paste
5. Quinoa Pine Nuts Flavored Curry
6. Quinoa with Chicken and Feta Cheese
7. Quinoa with Chives and Chicken Salad
8. Quinoa Bread Crumbs Flavored Patties
9. Quinoa Almonds and Cranberry Salad
10. Quinoa with Butter and Adobo Seasoning Salad
11. Avocado Quinoa Salad
12. Quinoa Fresh Mint Salad
13. Quinoa with Red Wine Vinegar Salad
14. Quinoa with Dried Basil and Turmeric
15. Quinoa Arugula Salad
16. Quinoa Goat Cheese Salad
17. Quinoa Currants Salad
18. Quinoa Almonds Flavored Curry
19. Quinoa with Diced Ham Fritatas
20. Quinoa with Baby Beets and Pomegranate
21. Quinoa with Raisins and Oregano
22. Sesame and Flax Seeds Flavored Quinoa
23. Mango Flavored Quinoa
24. Banana Flavored Quinoa
25. Tarragon Flavored Quinoa
26. Asparagus Flavored Quinoa
27. Pecans Flavored Quinoa
28. Tomato Basil Quinoa
29. Almond Raisins Quinoa
30. Cinnamon Almond Milk Quinoa
31. Apple Fresh Mint Quinoa
32. Ham Onion Flavored Quinoa
33. Eggs Cilantro Flavored Quinoa
34. Apricots Dates with Quinoa
35. Shiitake Mushroom Quinoa Bisque
36. Pine Nuts Raisins with Quinoa
37. Baked Crumbs Tuna Quinoa
38. Apple Quinoa in Toasted Turkey
39. Lentils Quinoa Salad
40. Flax Seed Quinoa Flavored Granola
41. Avocado Corn Quinoa
42. Mixed Vegetables Quinoa Flavored Burgers
43. Broccoli Quinoa with Cheese
44. Nutmeg Honey Quinoa
45. Minty Quinoa
46. Buttered Quinoa in Acorn Squash
47. Quinoa with Peanut Butter Sauce
48. Cauliflower Broccoli Quinoa
49. Marshmallow Quinoa
50. Avocado Quinoa Flavored Sushi
Categories: Cookbooks
Sorry, comments are closed for this item.