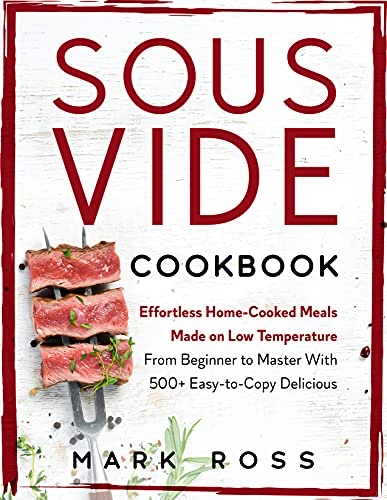 This book is your intro to sous vide cooking. It breaks down the process behind sous vide cooking, and it demonstrates how sous vide cooking can have a positive impact on your culinary life.
Sous vide is a French term that describes cooking under a vacuum. You seal your food in a plastic bag, remove the air, and let it cook in water or stock bath. It's becoming a real buzzword as people start learning about the method.
Sous vide enables you to cook amazing meals at the perfect temperature. This was once a secret method of the world's finest restaurants. It's now available to everyone, including you.
It's never been easier to cook world-class meals in your home kitchen. Start preparing gourmet meals prepared on low temperatures.
These are the main advantages of sous vide cooking:
● It is impossible to overcook the food, and the food is always
cooked to perfection.
● It doesn't require precise timing. 10 minutes more won't make
much difference.
● It's a hands-off approach to cooking. You can do other things as
the food is cooking.
● It doesn't occupy other kitchen equipment.
● You don't have to unfreeze food before cooking.
● You can use interesting cuts of meat you might not otherwise
consider.
It comes down to this:
– Sous vide food simply tastes better.
– Sous vide food is healthier than many other traditional cooking
methods.
Are you ready to start making delicious meals that aren't only tasty but
also healthy?
A sous vide set-up can dramatically change your home kitchen and your culinary life. You'll be sorry you haven't started with this method sooner once you try it. This amazing book contains over 500 different sous vide recipes suitable
for seasoned sous vide pros and complete beginners. If you can follow simple recipes, you can prepare delicious meals to make your mouth water in excitement.
You will get:
– Step-by-step instructions to help you prepare delicious meals,
– A huge collection of amazing recipes,
– Tips and tricks to help you master low-temperature cooking.
Categories: Cookbooks