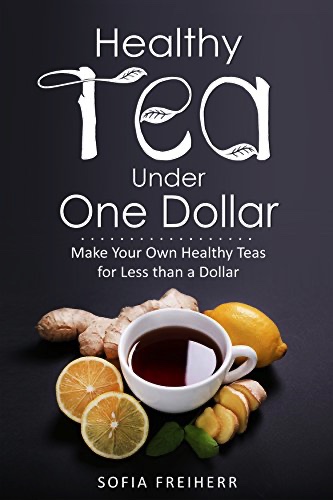 Tea has been around for centuries and centuries. What started as a medicine has now become a popular, beloved drink enjoyed around the world. And you can make your own at home for less than a dollar a cup! In Healthy Teas Under One Dollar: Make Your Own Teas for Less than a Dollar, you will learn:
•The Health Benefits of Tea: Did you know that tea can help strengthen your immune system and even contribute to your weight loss plan? We'll go over the health benefits of various types of tea in chapter one and throughout the rest of the book.
•Making a Proper Cup of Tea: A lot of people make tea wrong without even knowing it. There are proper methods for steeping the herbs and preparing the water, which we will go over in chapter two. Then, you'll be able to make the perfect cup every time.
•Energizing Herbal Teas: Chapter three will be dedicated to making homemade teas that energize you and help you get focused. These will be especially helpful if you're trying to cut back on coffee.
•Calming Herbal Teas: Chapter four will cover how to make calming herbal teas at home for less than a dollar a cup. These are great for easing anxiety or just relaxing before falling asleep at night.
•Making Tea Blends: We will also cover different tea blends you can make right in your own kitchen, and how to dry the herbs.
Homemade teas can be something to enjoy alone, with friends, or to give as a unique, great, and thoughtful gift to your loved ones. It's so healthy, easy, and cheap that you have nothing to lose.
Categories: Cookbooks