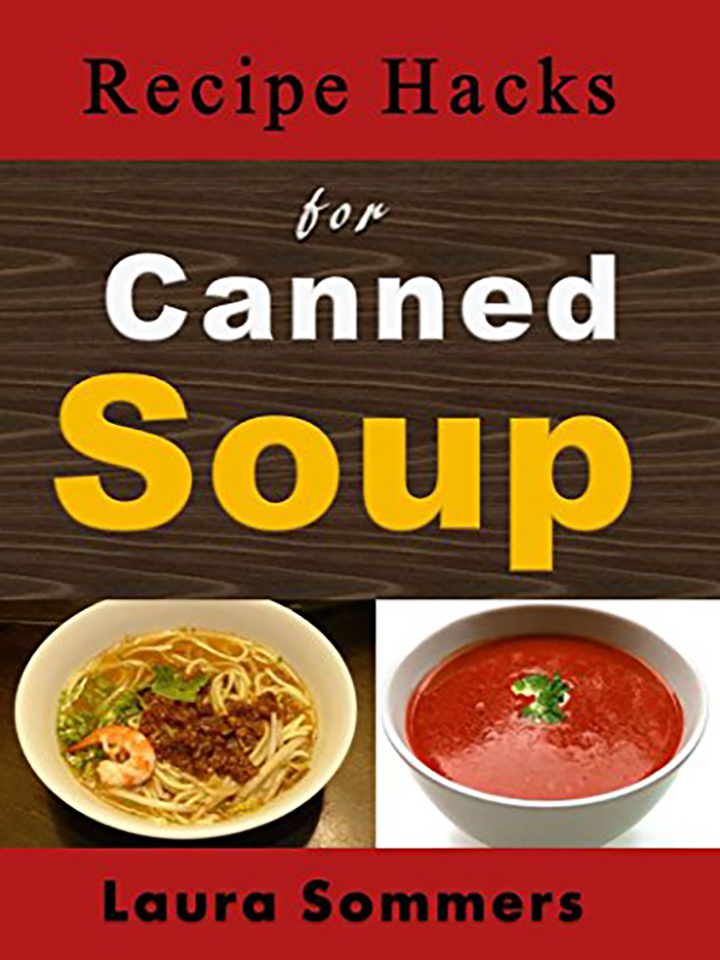 Get on Amazon
69 Canned Soup Recipes in this Cookbook!
In these tough economic times, it is important to find ways to save money, especially when feeding your family. Maybe you are a college student looking to save money by taking a break from fast food or paying at the cafeteria. Canned soup is an inexpensive staple ingredient that many people have in their cupboard but rarely think about the possibilities beyond a heating up a bowl on a cold winter's day. This pantry staple is not only cheap but it is versatile as well.
This recipe book contains tons of tasty and creative hacks that go beyond the traditional with many delicious options. Canned soup may be cheap but it doesn't have to be boring if you know how to Hack It!
Recipes Include:
Chicken and Broccoli Pitas

Chicken Crunch

Squash Casserole

Chicken Pasta Primavera

Chicken Pot Pie

Chicken Cordon Bleu

Tex-Mex Chicken and Rice Bake

King Ranch Chicken Casserole

Chicken Quesadillas

Chicken and Rice

Creamy Slow Cooker Chicken

Chicken Parmesan Peppercorn Pasta

Creamy Turkey Lasagna

Santa Fe Chicken and Stuffing

Turkey Shepherd's Pie

Honey Mustard Chicken

Chicken and Dumpling Casserole

Spinach-Stuffed Portobello Mushrooms

Chicken Celery Casserole

Tater-Tot Casserole

Etouffee

Hash Brown Potato Casserole

Shrimp Chowder

Creamy Potato Casserole

Chicken Broccoli Alfredo

Beef Stroganoff

Chicken and Broccoli Alfredo

Cheddar and Broccoli Quiches

Rueben Casserole

Mini Tater-Topped Casseroles

Sausage Breakfast Casserole

Green Bean Casserole

Tuscan Chicken Pot Pie

Sausage Breakfast Casserole

Alpine Meatballs

French Wine Chicken

Creamy Chicken Carbonara

Amish Country Casserole

Creamed Onion Bake

Queso Dip

Chicken Cordon Bleu

Jalapeño Spoon Bread

Bacon Cheddar Potato Soup

Cheese Fondue

Baked Mac and Cheese

Scalloped Potatoes

Slow Cooker Scalloped Potatoes

Beef Rotini Skillet

Tomato Curry Chicken

Slow Cooker Tuscan Beef Stew

Cheeseburger Pasta

Spaghetti Soup

Beef Taco Skillet

Creamy Tomato Soup

Sloppy Joes

Tomato Basil Zucchini

Italian Burgers

Meatloaf

Frank and Beans Soup

French Onion Sliders

French Onion Casserole

Swedish Meatballs

Golden Mushroom Pork Chops

Creamy Chicken Casserole

Ham and Pasta Skillet

Skillet Chicken and Broccoli

Broccoli & Cheddar Baked Potato

Chicken Broccoli Divan

Beef and Broccoli
Categories: Recipe Books
Sorry, comments are closed for this item.