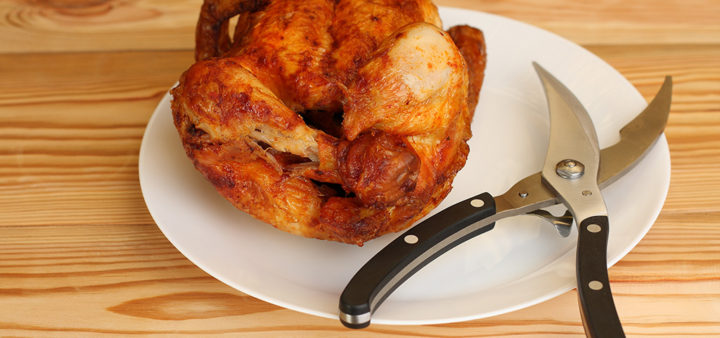 The fastest and easiest way to cut up chicken, game birds or other poultry is a good pair of poultry shears. If you have not used them before you have no idea what you are missing. Those that have some experience with these amazing kitchen tools will appreciate the ease with which they can separate, butterfly or spatchcock a chicken.
Raw or cooked, cutting poultry has never been easier. Good poultry shears are an investmentyou will not regret.
With quite a few models on the market, we scoured the internet and read hundreds of reviews to find the best poultry shears on the market right now.
OXO Good Grips Spring-Loaded Poultry Shears
If you want quality dependable poultry shears, the Oxo Good Grips are a great choice. They are well received by the public and have had many positive reviews. The spring loaded action makes the job fastest and puts less strain on the hand while the tapered blades allow you to get into hard to reach places on the bird.
The shears come apart for a thorough cleaning and you can simply rinse them off in soapy water. The handles are designed for comfort and efficiency.  The tapered and curved blades are designed for maximum effectiveness and micro-serrations to grip and cut the material. The excellent sharpness combined with the clever design makes them highly effective. Theyarealso spring loaded to reduce fatigue during use.
Features:
Tapered, stainless steel blades
Spring-loaded
Comfortable design
Separate for easy cleaning
Super sharp
Silver Armadillo Chefs Heavy Duty Poultry Scissors
As the name suggests, these shears can cut through pretty much anything, including poultry and small bones. These spring loaded shears are at home cutting herbs and vegetables as well as cutting meat or spatchcocking a chicken.
The sharp blades and functional design give them power and strength to cut through most materials with ease. They are highly effective and easy to use. Cleaning is easy and a bit of warm soapy water will do the trick. The quality stainless steel blades will not rust and the materials resist bacteria.
If you want to give these shears as a gift theycome in an attractive gift box. You will also get a handy silicone basting brush. The quality materials and good design mean that they will last for decades and still work perfectly and look good doing it.
They are perfect for vegetables and herbs, meat, seafood andpoultry. They are powerful enough to cut through most bones and joints with ease.
Features:
Durable one-piecedesign
Comfortable handles
Quality stainless steel to retain sharpness and resist rust
Free basting brush
Spring-loadedblades for ease of use
Attractive presentation box
Mercer Culinary Hot Forged 9.5-Inch Poultry Shears
Mercer is well known for quality cutlery and their poultry shears are the choice of many top chefs and kitchen professionals. They are therefore ideal for home use. They are made in Spain to exacting standards using high-carbon stainless steel that has been hot forged for added strength and durability. The blades are extremely sharp.
The edge of the blade has small serrations for improved grip and joints and bones are no match for the Mercer Shears. The shears are perfect for all poultry and smaller game. The grip is textured so it will not slip and there is a safety lock for when not in use. They are perfectly designed for precision work while still powerful enough to tackle large jobs.
The blades are spring loaded for fast and effective work.
Features:
Razor sharp
Hot forged for strength
Durable and rustproofhigh-carbon stainless steel
Spring loaded
Serrated edge on one blade for grip
Non-slip handles
Great for small game and poultry
Safety lock
Easy to clean
NOVASKO Premium Heavy Duty Spring Loaded Poultry Shears
These are professional quality poultry shears at a remarkably affordable price. They are ultra-sharp and made from durable stainless steel. They will remain looking good and working well for many years and are easy to clean.
They are the perfect shears to debone, spatchcock or butterfly a chicken or other poultry but still versatile enough for a range of other kitchen work. They work well onvegetables, seafood andmeat.
The design makes them comfortable and practical for both left and right-handedpeople. They are comfortable to work with and designed to reduce fatigue.
Novaskooffersa 100% satisfaction guarantee.
Features:
Thick wide blades for extra power
Comfortable ergonomic handles
Grove for joint cutting on one of the blades
Serrated edge for cutting skin
Safety clip
Spring loaded for ease of use
Final thoughts
A quality pair of poultry shears will make your preparation quick and painless and is a worthwhile investment. All of the featured shears were highly rated top sellers and are made from great quality materials. They will last you many years and make poultry and other peroration a breeze.
Categories: Articles, Product Reviews
Sorry, comments are closed for this item.