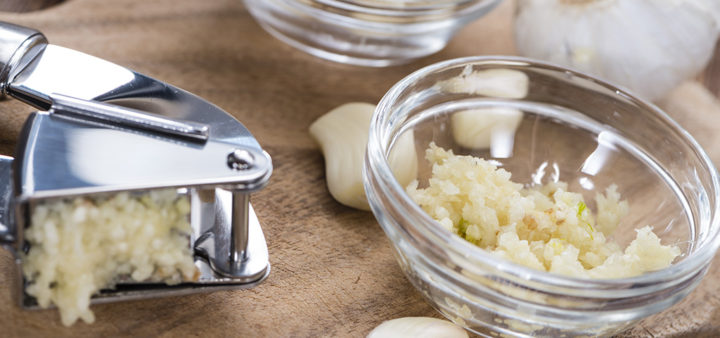 Garlic adds a great flavor to many meals and there is no doubt that fresh garlic is the best way to go. Not only does it add great depth to your cooking, garlic is also very good for you. Chopping it or crushing it without the right equipment takes time, is messy and will leave a strong garlic odor on your fingers.
A garlic press makes quick work of crushing fresh garlic with no fuss and no smell on your fingers. A good garlic press will give you fast and consistent freshly crushed garlic that is full of flavor and aroma. They are easy to use and simple to clean.
Alpha Grillers Garlic Press and Peeler Set
This elegant good looking garlic press comes with a nifty peeler and is presented in a great looking gift box. It is a top seller with extremely high ratings from customers that have bought it.
It is made from top quality stainless steel which means it will not rust, is easy to clean and looks great. The peelers is a unique but effective tube design and ismade from silicone. Both are well built and will last decades.
Raw unpeeled ginger or garlic can be pressed in seconds extracting all the flavors and goodness. The peel will remain inside and perfectly crushed garlic or ginger is extracted. It is an effortless process and your hands will not retain any odor from the ingredients.
The design and quality materials make it very easy to clean after use. All that is needed is to rinse the press off under running water. You could even pop it into the dishwasher if you want. The handles are well designed for comfort and effectiveness and the press is easy to operate. Very little effort is required to operate the press.
Alpha Grillers stand behind their product and it comes with a lifetime guarantee. This gives you complete peace of mind that if you are not totally happy with the product you can return it for a full refund.
Comes with a handypeeler
Durable solid stainless steel press
Comfortable ergonomic design
Perfect for garlic as well as ginger
Dishwasher safe
Easy to clean
Comes in an elegant gift box
BONNEVIE Garlic Press and Peeler
Another popular and well-loved garlic press comes from Bonnevie. It also comes with a great peeler so you can have peeled on unpeeled crushed garlic in a flash. You can pop it in with the peel still on and still get perfectly crushed garlic in seconds with the peel remaining on the inside. The chamber is the ideal size for pressing fresh garlic. The handles are also well designed for comfortable operation. There is no need to get your hands in contact with the pungent garlic.
Again, this garlic press is very easy to clean either under running water or in the dishwasher. It is well constructed from stainless steel and a zinc alloy making it tough and durable. The materials will not rust and this press will last a really long time. It is also really well priced.
Quality solid stainless steel garlic press
Press peeled or unpeeled cloves in a flash
Ergonomically designed for ease of use
Perfect for pressing ginger too
Comes with an effective silicone garlic peeler
Easy to clean and dishwasher safe
Comes in an attractive gift box
OTRON premium garlic press
This is a well-loved stylish garlic press. It is a great combination of form and function. The Otron press looks great and works perfectly. It is well designed to handle heavy duty garlic or ginger crushing with comfort and ease.
The quality stainless steel and good design meansthat it is easy to clean and will not rust or tarnish over time. It is super easy to clean and you can even pop it into the dishwasher. The design makes it easy and comfortable to use.
Well designed with quality stainless steel
Comfortable and easy to use
Easy to clean
Will not tarnish or rust
Can press garlic or ginger with ease
Lifetime replacement warranty
Kebley Garlic Press and Peeler Set
The Kebley Garlic Press is both good looking and functional. It is made from Zinc alloy which gives it strength while keeping it light. It is durable, solid and comfortable to use. It is perfect for garlic and ginger and makes pressing quick and easy.
Cleaning is easy and a running tap will do the job in no time. The quality materials used means that it will not rust easily and it will last decades.
Kebleyoffersgreat customer service and will attend to any issues you might have or give you a refund if you are not satisfied.
Made from durable Zinc alloy
Lightweight
Easy to clean
Perfect for garlic and ginger
A good garlic press will make the job of crushing fresh garlic or ginger easy and hassle-free. What is best is that it will ensure your hands do not absorb the garlic odors.
Categories: Articles, Product Reviews
Sorry, comments are closed for this item.