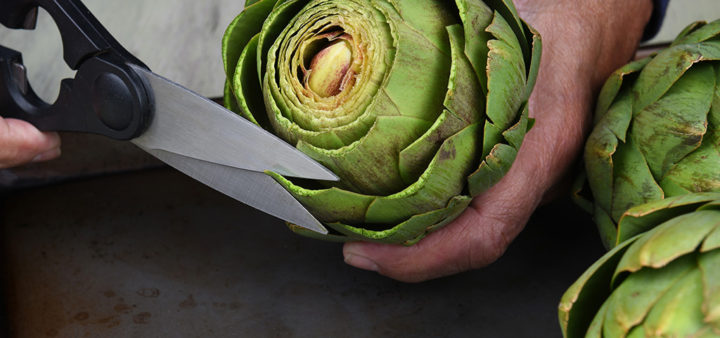 A quality versatile pair of kitchen shears is one of the most useful and valuable kitchen tools you can own. You do not have to spend a fortune but you also do not want to get a pair that is not up to the job.
From snipping chives to cutting poultry or simply opening a packet, kitchen shears will be used regularly. Many are multi-function and cannotonly cut a wide variety of materials but also have other useful features.
We did the homework so you don't have to. Here are 4 of the most popular and well-loved kitchen shears on the market.
Gerior Come-Apart Kitchen Shears
These versatile kitchen shears are extremely sharp and the large 9.25-inchblades mean that they are up to most jobs around the kitchen. They can handle fine snipping and cutting as well as chopping to heavier jobs such as cutting items such as poultry and meat. Even small bones are no match for the GeriorKitchen Shears.
They have proved extremely popular with consumers and received great feedback and positive reviews. They look smart with black handles and also include a bottle opener as well as a peeler.
There is even a serrated blade for scaling fish. Hard to open bottles are no match for the steel teeth on the handles and they can also be used to crack nutsand crab shells.
The shears are easy to clean and come apart to help you get in everywhere. They are easy to adjust to get the desired tension and are effective and comfortable to operate.
It has a comfortable ergonomic design so you can use them without getting sore or tired. The blades are made of no-rust durable stainless steel. The blades feature micro serrations to prevent any slipping when in use. These shears will last you a long time and still look good after many years.
Gerior isso confident in the quality of durability of their product that they offer a 100% money back warranty.
Features:
Well designed with quality well-made blades
Blades will not rust
Are able to make precision cuts on a wide range of materials
Versatile and multifunctional
Includes a nut and crab cracker as well as a bottle opener
Comfortable and secure grips
Detachable for easy cleaning
Professional good looking design
100% Satisfaction warranty and lifetime replacement
Kershaw Taskmaster Shears -1120X
Kershaw is a well-established company and the name is synonymous with high-qualityblades. The Taskmaster Shears -1120X sport a 3.5-inchblade made of stainless steel. They are made in the renowned blade making area of Seki City, Japan.
These multifunctional shears also feature a nutcracker, jar and bottle opener, two screwdrivers and a bone notch.
The partially serrated stainless steel blades will not rust and come apart for easy sharpening and cleaning. While these are perfect kitchen tools they would be equally useful in the workshop, garden or camping.
Reviews on this product have been overwhelmingly positive with many people thrilled with the performance and durability of the shears.
Blade: 3.5″
Overall length: 8.9″
Weight: 5.1 oz.
Blades separate for easy cleaning
Multi-functional
High-quality, high carbon stainless steel
Non-slip, conformable over-mold grip
MAIRICO Ultra Sharp Premium Heavy Duty Kitchen Shears
These multipurpose kitchen shears are highly rated by consumers and received extremely high ratings. They offer excellent value for money. The ultra-sharp blades allow for precise and effortless cutting on most materials. They are equally comfortable cutting and snipping herbs and vegetables as they are with meat, poultry andsofter bones.
Like a number of good kitchen shears, the MAIRICOUltra Sharp Premium Heavy Duty Kitchen Shears also have a nutcrackeras well as a bottle opener. Apart from meat, poultry andother foods, the shears will glide through cardboard, plastics and even plants and flower stems.
The non-slip handles are comfortable and provide a solid grip on the shears. The blades are quality stainless steel that is durable and rustproof.
MAIRICOoffer a money back guarantee if you are not entirely happy with these well-pricedshears. If you want quality shears that are real value for money, you cannot go wrong with this popular product.
Features:
Great workmanship and quality materials
Ultra-sharp serrated blades
Durable construction
Cuts through most materials with minimal effort
Non-slip comfortable handles
Easy Function Ultra Sharp Kitchen Shears
If you want a quality pair of kitchen shears but are on a tight budget, you will probably want to check out these well-priced shears on offer from Easy Function. Despite the reasonable price,they are tough and durable. The stainless steel blades are extremely sharp and will not rust.
The shears are dishwasher safe and easy to keep clean. The sharp blades and strong action will make cutting meat and poultry an easy task. They are still versatile enough to cut through most other materials you might need to cut in the kitchen.
Apart from heavy duty cutting the shears can also crack nuts, scale a fish and open stubborn bottles.
Ergonomic design
Versatile functionality
Sharp stainless steel blades
Dishwasher safe
Final thoughts
Getting a quality pair of kitchen shears is one of the best investments you can make as it is something you will use frequently. These highly rated shears are all top performers and ultra-durable. They will give you many years of cutting all manner of items in your kitchen saving you a lot of time and frustration.
Categories: Articles, Product Reviews
Sorry, comments are closed for this item.