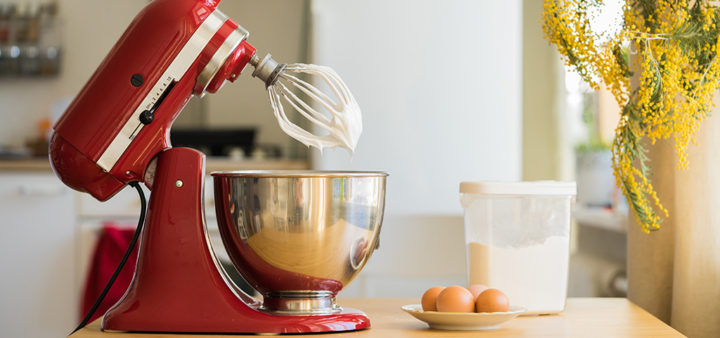 Cooking and baking aresupposed to be fun and not a slow boring chore. Quality kitchen tools and equipment will make your life easier and make it much more fun to whip up delicious treats for friends or family.
One item every kitchen needs is a good electric mixer. It will save you lots of time and effort and free you up to do other things while the electric mixer works its magic.
There are two types of electric mixer available, the stand mixer and the handheld mixer. The handheld mixers can handle most jobs but are slightly slower. The stand mixer is better for heavy dough or if speed is important.
We scoured the internet to find the most popular and highly rated electric mixers currently available. Here they are:
KitchenAid KSM150PSER Artisan Tilt-Head Stand Mixer
KitchenAid is a well-loved brand that is known for long-lastingquality kitchen appliances. The unique design of the Artisan Tilt-Head Stand Mixer makes for fast and convenient mixing with easy access to ingredients.
It has a bold and attractive look and is available in 20 colors. The powerful 10-speed motor will make quick work of even the heaviest dough. The versatile mixer comes with a whip, a dough hook anda flat beater.
Features:
Generous stainless steel 5-Quart bowl with Pouring Shield
10-speed easy slide control motor for perfect control
Motor powerful enough for all mixing requirements
Comes standard with a doughhook, whip andflat beater
The power hub can connect an additional 15 attachments (sold separately)
Easy and comfortable to use
Available in 20 colors
Quality thorough mixing action
Cuisinart HM-90S Power Advantage Plus 9-Speed Handheld Mixer
Another popular and well-loved brand of kitchen appliances is Cuisinart and the HM-90s is a top-selling mixer. This is a handheld mixer so while it is nifty and versatile, it is probably not suited for bigger jobs or regular mixing.
It comes in white or chrome and has a 9-speed 220-watt motor. The lower speeds will allow you to mix without making any mess and the HM-90s has a convenient storage case. It comes with beaters, dough hooks anda whisk. A spatula and recipe book are also included.
For quick mixing jobs, beating or whisking, this is a great choice. It is compact, easy to clean and excellent value for money. The Cuisinart HM-90S will save you a whole lot of time and effort in the kitchen.
Features:
Powerful 220-watt9-Speed motor
Automatic feedback
3 low speeds for splatter-freemixing
One-touch power switch
LED display
BPA free
Handysnap-on case for storage
Comes with whisk, beaters and dough hooks
Recipe book included
Dishwasher safe
3-Year limited warranty
CHEFTRONIC Tilt-head Stand Mixers SM-986
Cheftonic makes a durable hard working stand mixer that is great value for money. This 650W 6-speed mixer has a 5.5qt bowl and will work well for all your kitchen mixing and whisking needs.
It comes in red, black and silver. The good sized stainless steel bowl will let you mix or knead up to 2kg at a time. It has a flat and a flex edge beater, a whisk and a dough hook.
Features:
650w powerful motor
6-speed operation
5quart stainless bowl
Whisk, dough hook, flat and flex edge beater come standard
Silicon splash guard
UL certificated
2-year warranty
Sturdy anti-slip suction cup design
Tilt-head for good access to ingredients
Good customer service
Sunbeam 2371 MixMaster Stand Mixer
Sunbeam makes a popular stand mixer that is great value for money and popular with customers. The 2371 MixMaster is a 12-speed 350-watt mixer with 2 glass bowls, beaters, dough hooks and a whisk. There is a bowl selector switch to ensure you get optimized action for both size bowls.
The soft start feature will allow you to start mixing without splatter and mess. The tilt locking head makes working on the mixer and getting to your ingredients easy. The mixer also has a comfortable soft grip ergonomic handle.
Features:
12-Speed 350 watt motor
Soft start feature
2-Quart & 4-Quart glass bowls
Bowl selector switch
Soft grip handle
Final thoughts
A good electric mixer will make many of the time consuming and tedious kitchen jobs quick and easy. It will make preparation a breeze and give you so much more time to do the fun parts of baking and cooking.
All of the above mixers are highly rated and popular with consumers. They are durable and well made. They all have the necessary features and attachments to tackle almost all of your mixing needs.
If you are in the market for a new mixer or upgrading an old one, you can't go wrong with any of these options. Consider your requirements and your budget and select the one that is right for your needs.
Categories: Articles, Product Reviews
Sorry, comments are closed for this item.