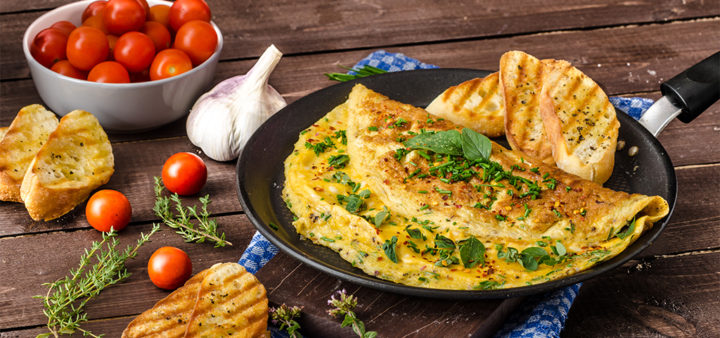 We can all agree that sometimes during the morning making the omeletis too much hassle. Of course, it is easier than making other dishes, but finally, you can rest assured, because electric omelet makers became the new handy addition toyour kitchen.
Electric omelet makers are tremendous and convenient help in preparing delicious and quick breakfast for the entire family. You can also make other egg recipes as well as other dishes that you want. At the same time, they include unique features that you have to understand before you decide to purchase any one.
That is the main reason why we decided to present you top 5 electric omelet makers:
Holstein Housewares HH-0937012SS Omelet Maker – Black
If you want to choose the electric omelet maker that will make your favorite meal in a matterof minutes, you should consider Holstein Housewares HH-0937012SS omelet maker. Apart from the idea that you will make the most important meal of the day without flipping, you will also get omelet maker that is simple to clean.
You just have to pour the mixture, close it and wait a few minutes until omelets are ready. It doesn't matter if you want to combine Spanish tortilla with eggsor create something uniquebecauseyou will be able to enjoy in a no time.
Finally, you can start the day by getting the wonderful, protein-filled meal just before you go to the work. You don't have to use different dishesbecausethis particular one is everything that you will need to make a healthy breakfast. By choosing it, you will simplify your life.
Pros:
Simple to make delicious omelets without flipping them
The indicatorlight will allow you to know when the maker is on
Convenient and straightforward to clean
You will get color manual with recipes within a package
Cons:
It can only bake two eggs per cavity
Dash DOM001RD Nonstick Omelette Maker, Red
Dash DOM001RD OmeletMaker is an excellentaddition to your kitchen, especially if you have a larger family. You don't have to wake up early just to make for your family breakfast before work and schoolbecause by using this particularomeletmaker you can make everything promptly.
It includes a 700Wcooking surface that you can clean with wipes without too much hassle. Due to the narrowfootprint, you can quicklyplace it on any counter and store it after the use. You canmake pizza pockets, omelet, andmany more meals if you choose Dash OmeletMaker.
It contains green indicator light so that you can determine when the omeletmaker gets overheated. Thisis the convenient feature because you will be able to monitor it from acrossthe room without making a mess.
The construction is non-stick coating in combination with plastic, which is durable, but not as other omelet makers on the market. Thisis the main disadvantage, but you will still get a one-yearwarranty so that you can fix it in case something terriblehappens.
Pros:
Simple to wash and clean
It includes instruction manual and book with recipes within the package
Compact design that will fit any counter space
It contains green indicator signal
Cons:
Lekue Omelette Maker, Model # 3402700R10U008, Red
The best way to prepare the breakfast is to use the less butter, oil or grease. However, it is difficult to fry an omelet in a pan without using something that we have mentioned above. Now, your problems are over, because Lekue Omelette Maker is the amazing addition to your kitchen appliances.
Apart fromtheidea that you will be able to get the convenient way to make omelets, it has 100% platinum silicone construction that will stand the test of time. The main reason why we all agree that platinum silicone construction is necessaryis that itis resistant to high temperatures. Therefore, the materialmakes it more durable.
You can wash it in the dishwasher, which is the convenientway to clean it after use. You will also get the recipe booklet within the package so that you can make a varietyof omeletsin a matterof minutes.
You just have to beat two eggs, add ingredientsand put inside the omeletmaker. Wait for five minutes, and you can eat it right away. It is a healthierway to start a day than using the fryer pan for making the breakfast.
Pros:
Robust and durable construction
You can wash it in the dishwasher
Convenientand sleek design
You will get recipe booklet inside the box
Cons:
Too expensive when compared with other electric omelet makers
Better Chef Omelette Maker Color: Red
The Better Chef Omeletmaker has impressivefeatures that will make every breakfast in a timely manner. It doesn't matter if you want to make egg omelet or any other dishbecauseit has an urbandesign that makes it perfect for a varietyof meals.
The design is excellentfor several egg dishes at the same time. The pan accommodationis perfect for people who want to find the sizeableomeletmaker. It is equippedwith a largeand heavyweightpan that protects it from damage. At the same time, the weight will increase the load bearing so that you can make big dishes.
You can quicklymake heavy breakfast mealswithout too much hassle and pressure. It is perfect for large families due to its size and capabilities. It works on 1000 watts power, and it includes non-stick Tefloninside that will produce the tasty omelets every time you turn it on.
Pros:
1-year warranty
1000 watts of power
Non-stick Teflonas the additional convenience
You can make huge meals without any furtherproblem
Cons:
Better Chef New Non-Stick Electric Double Omelette Maker Red. by Better Chef
Finding the appropriate omeletmaker is the challenging task. However, we are here to show you the double maker that is perfect for families that are more prominent. The main reason for its popularity is the immersive amount of power in combination with the double side maker so that you can make two meals simultaneously.
The main disadvantage is the size, which is more significant than other electric omelet makers are. Therefore, you will need a largecounter space so that you can place it. However, you will still be able to use it for bigger meals and breakfasts without using the additional grease.
You just have to mix the eggs, add the ingredients and place it in the cavities. Your favorite meal with pop up in a matterof minutes. It includes aone-yearwarranty so that you can use it for an extendedamount of time. It uses cool-touch exterior and sturdy construction that will stand the test of time.
Pros:
1000 watts power in combination with the durable exterior
One-year warranty
Simple to clean and use
Budget-friendly price tag
Cons:
Categories: Articles, Product Reviews
Sorry, comments are closed for this item.