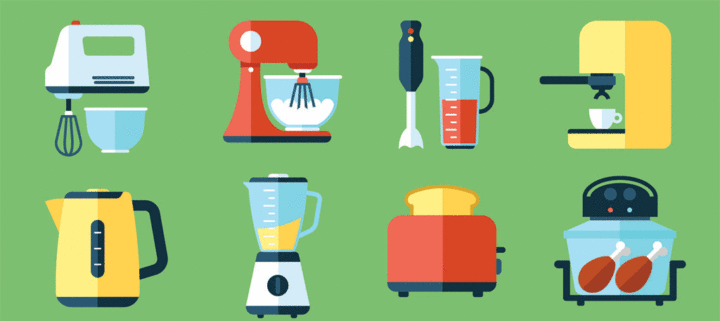 When you don't have enough space for a full-sized processor and don't want to dirty any extras dishes, the Immersion Blender is just the gadget for your kitchen! It's a wonderful mini appliance with diverse uses. They require minimal storage space and are easy to clean. Their functions include crushing, blending, chopping and pureeing.
It opens up so many possibilities when experimenting with recipes, as amongst many other things, it can cream soups, crush ice and even mash potatoes. The immersion blender is also not overly limited to the amount it can blend or restricted to a designated container. You can use it in pots, pans, mixing bowls etc.
There are many makes and models available on the market. The look, power, speed, attachments and of course the price, may influence your decision.
The frequency of use and whether for consumer or commercial purposes, should also be taken into account.
There are 3 types of blenders:
The Basic immersion blender:
They are the most common blenders available.  They offer the bare minimum of features and often come with only a few or no extras.
Multifunction blender:
These Blenders come with attachments and accessories. They are generally of higher quality and costlier
Battery powered- Cordless
Although it does not offer the same power as the corded blender, it is convenient in that it allows free movement.
When searching under immersion blenders on the internet, the sheer volume of information was overwhelming. There were countless reviews and opinions by online shopping sites, bloggers, the general public and manufacturers
There are many makes and models available but we will lookat the ones that came up most frequently when searching for 'popular' Immersion blenders.
There are also many varied opinions and descriptions of each blender so we narrowed it down to the main features.
Breville BSB510XL Control Grip Immersion Blender
This multipurpose kitchen helper is a popular choiceand reasonably priced considering its quality and features. A lot of thought and detail appear to have been put into this kitchen favorite. It is also made by a trusted brand so you know you are getting value for your money.
280-wattmotor that mixes ingredients evenly
15 Speed control setting with quite a high speed at its max.
Extended Cord that makes it easy to move around
The rubber coated handle is designed for comfort and good grip
The non-scratch base is a great feature,keeping you from damaging your dishes
It also has an anti-suction feature
Variety of useful extras includes large jug, whisk, mini chopper and guard for the blade to avoid damage and ensure safety.
8'inch depth reach allows for usage in deeper dishes.
Blending stick is dishwasher safe but accessories should be washed separately
Stainless Steel exterior
1 year limited warranty
All CladKZ750D42 Immersion Blender
A High-performanceblender and versatile kitchen companion. It has enough power to easily get through tough ingredients.
600-wattmotor
Power and turbo settings
Dispels heat which increases its lifespan
9 ¼ inch shaft which allows for deep reach into containers.
Accessories include mini chopper and whisk
Easy grip handle
Stainless steel guard prevents splattering
Easy to clean and compact to store
2-year guarantee
Cuisinart CSB 100 Smart stick 2-speed Immersion Blender
This blender is a popular seller and great value for money. Reasonably priced and a versatile kitchen must with great features and extras.
700-wattmotor
Variable speed control
Comes with a whisk, 4-cup beaker, and potato masher
One touch control
Stainless steel housing to curb splashing
Extra cord length
8 'inch shaft
Dishwasher safe removable parts
Comfortable handle
3-yearwarranty
Stainless Steel Wrap
Braun MQ777 Gourmet Multiquick 7 Immersion Blender
With its impressive design, ideal for heavy duty blending, this blender makes light of any culinary tasks in the kitchen.  Highly rated and recommended and worth the cost.
600-wattmotor
Comes with a childlock safety feature
All parts except the motor are dishwasher safe
Smart speed technology allowsyou to regulate the speed with the squeeze of your hand
Designed to prevent splashing and suction
Nonslipgrip
Comes with many extras such as:Beaker, masher, whisk, chopper, food processor attachment with French Fry cutting disc, masher
Apart from the motor,all parts are dishwasher friendly
2-yearwarranty
This list could go on and on as there are so many different optionson the market. They all vary in price from $30-300$. The above should give you an idea of the most talked about options out there.
It will help you to make an informed choice, keeping your tastes, purposes andbudget in mind. Whether luxury or simplicity, the main goal is to cut down on your preparation time in the kitchen. In today'shurried life there is just not enough hours in a day.
Categories: Articles, Product Reviews
Sorry, comments are closed for this item.