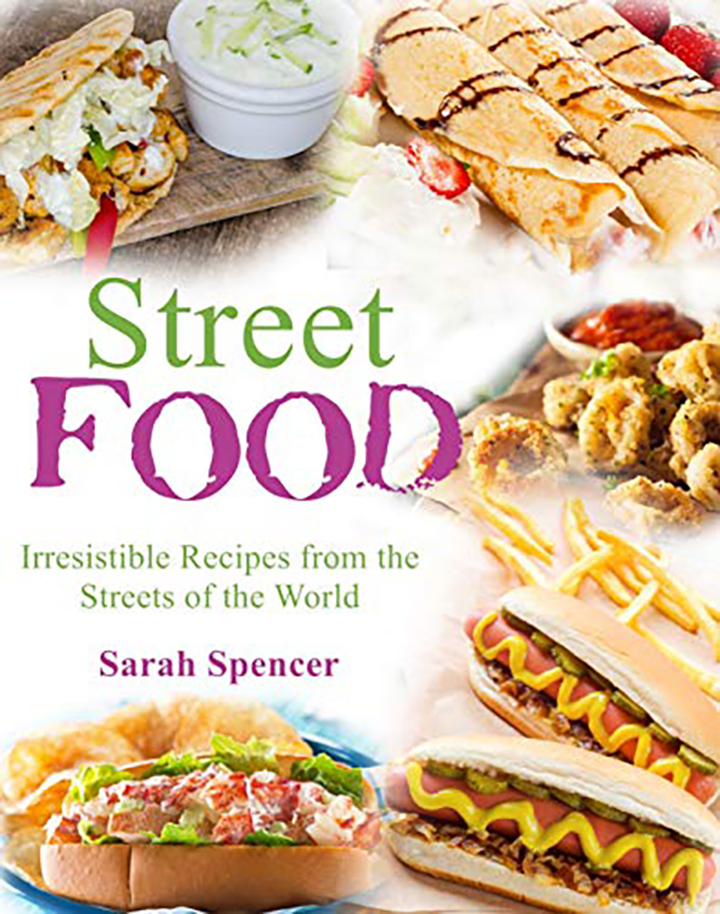 Get on Amazon
Make your favorite street food at home! With over 75 recipes included in this collection, you will find all the classics and some new flavors from food trucks and street food vendors of the World.
Street food is not a new phenomenon. Some of the earliest appearances we know about date way back to ancient Greece, where little fried fish were sold in the streets, and there were a number of street food vendors identified during the excavation of Pompeii. In the days when many urban dwellers had no kitchens of their own, people often depended on street vendors for their meals, because this was less expensive than eating in pubs or restaurants.
Hot dog wagons appeared in the late 1890s, and a little over a hundred years later, the phenomenon of street food is seeing a resurgence. Talented cooks are seeing the opportunity to go out on their own and share their creations with the public, and the public loves them for it!
In this illustrated cookbook, we share over 75 recipes from food trucks and street food vendors classics from all over the world, like: Cornish Pasties, Khachapuri (delicious buns baked with cheese and a whole egg), drunken noodles, fish and chips, and Perogies. Don't miss our Beef Samosas or our Italian Calzones. And if you think street food should be meat on a stick, we have four kinds!
Try our more unique recipes too, like Falafel Burgers, or Pulled Pork Potato Cups. For dessert, we'll even show you how to make Deep Fried Candy Bars, Dutch Oliebol, New Orleans Beignets, or Strawberry and Cream Crepes. You won't go hungry and have plenty of recipes to make for your family from breakfast to desserts!
Most of our recipes can be made with ingredients you have at home, and none require any special equipment. We have a number of vegetarian options, and some gluten-free recipes, as well.
Categories: Recipe Books
Sorry, comments are closed for this item.