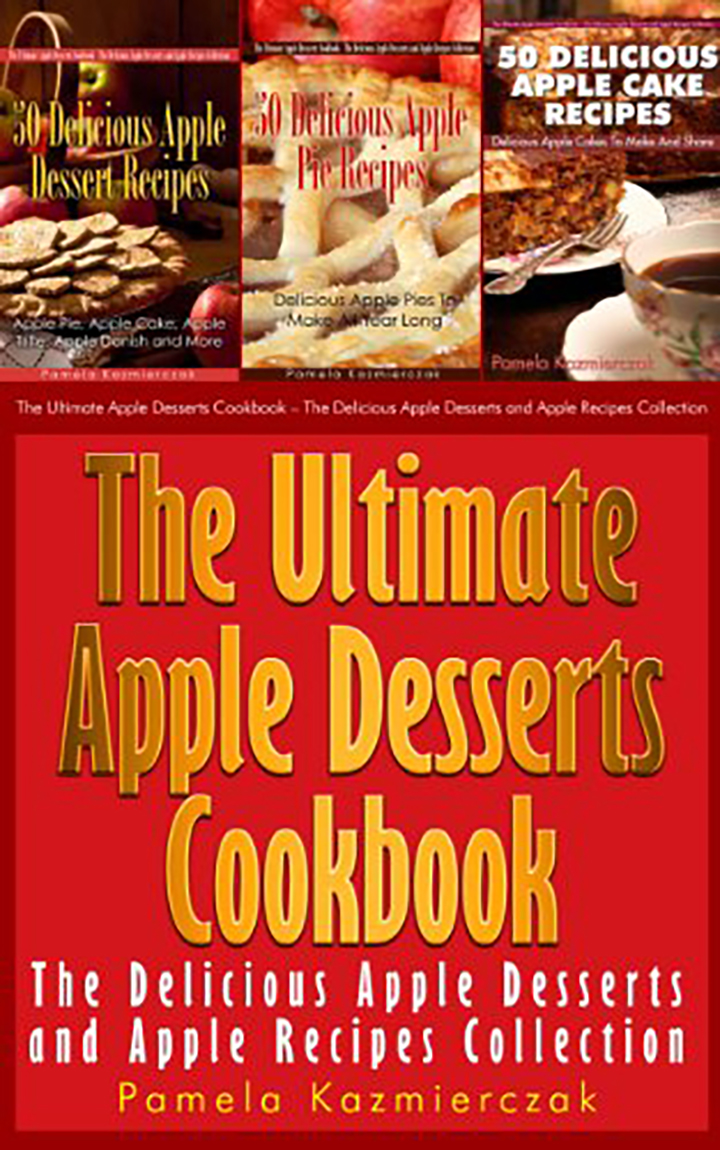 Get on Amazon
Welcome to the tenth volume of The Ultimate Apple Desserts Cookbook – The Delicious Apple Desserts and Apple Recipes Collection!! This is also the first of three apple recipe value packs!
Are you looking for Recipes for The Perfect Apple Dessert? This cookbook has recipes for Apple Pies, Apple Cakes, Apple Danishes, Apple Trifle and More!
This cookbook has a little bit of everything when it comes to delicious apple dessert recipes!
Enjoy the delicious taste of apples in a variety of Apple dessert recipes today!
The type of recipes you will find inside Apple Desserts Value Pack I – 150 Recipes For Apple Pie, Apple Cake, Cookies, Muffins and More – are apple desserts such as pies, trifles, cakes and more!
What Type apple smoothie recipes are in this book?
Some Examples of the recipes include:
Autumn Fruit Tart
Apple Spice Cake
Caramel Apple Trifle
Apple Nutmeg Cupcakes with Cream Cheese Pumpkin Frosting
Apple Bar Cookies
Cranberry Apple Walnut Bread
Pumpkin Apple Muffins
Crumb Top Apple Muffins
Apple Pecan Scones
Apple Coconut Danish
Apple Brown Betty
Apple Pandowdy
Apple Turnovers
Apple Strudel
Baked Apples
Classic Caramel Apples
Apple Cream Cheese Pie
Apple Cranberry Pie
Apple Pumpkin Pie
Apple Meringue Pie
Apple Pecan Pie
Candy Apple Pie
Caramel Apple Pie
Deep Dish Apple Pie
Dutch Apple Pie
Praline Apple Pie
Strawberry Apple Pie
Cinnamon Raisin Dutch Apple Pie
Caramel Apple Pecan Apple Pie
Apple Pecan Lattice Pie
Maple Apple Pie
Upside Down Apple Pie
Apple Cheesecake Pie
Chocolate Apple Pie
Apple Cinnamon Cake
Apple Crumble Cake
Apple Dump Cake
Apple Pie Cake
Apple Pound Cake
Apple Upside-Down Cake
Caramel Apple Bundt Cake
Gluten-Free Apple Cake
Apple Chiffon Cake
Apple Cream Cheese Cake
Cranberry Apple Cake
Apple Blueberry Cake
Apple Gingerbread Cake
Apple Scone Cake
Apple Zucchini Cake
Apple Chocolate Chip Cake
Apple Stack Cake
Categories: Recipe Books
Sorry, comments are closed for this item.