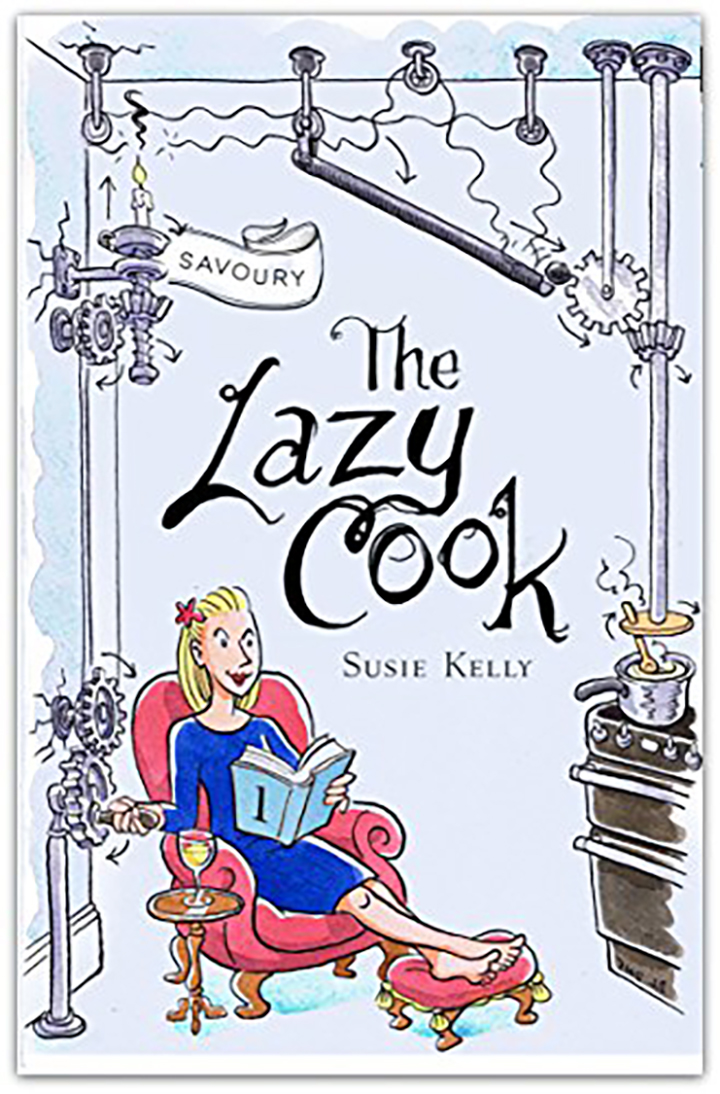 Get on Amazon
Delicious quick & easy vegetarian (with fish) recipes
"I have over 100 recipe books and this is in my favourite top 10. I loved this book. Everyday food! Great! I'm off inside to make a fish pie…" US reader
"She enhances the recipes by enclosing them in entertaining stories which make them memorable. This got me thinking that recipes may be closer to favorite poems or stories that one re-tells rather than science experiments." US reader
The popular travel author's delightful round-up of her favourite quick, simple, easy meat-free recipes, sprinkled with anecdote and humour.
Susie makes no claims to being a cooking queen. She admits that over the years she has made every cookery mistake possible, including pouring hot oil back into a plastic bottle and watching the bottle melt and flood most of the kitchen. Then there was the great icing sugar misunderstanding….  but in The Lazy Cook she has put together an irresistible collection of the tasty, comfort-food recipes that are enjoyed by her family and friends, spattered with generous blobs of funny.
One of those rare cookery books that won't be left on the shelf, but will mature with well-thumbed age as its pages become patterned with stains of food, wine, cream, butter and all things delicious
"It was great to read something new from Susie as I'm a huge fan of her writing (especially her travel memoirs set in France) and she always makes me laugh. Her no-nonsense guide to tasty home-made meals is interspersed with little anecdotes from her foodie recollections and contained more than one 'snort out loud' moment'." French Village Diaries
"I have read Susie's all of travel books and love them. Great vegetarian (with fish) recipes, many of them vegan, that non veggies will love too. Vegetarian or not I urge you to give this special cookbook a place on your shelves." UK reader
"This cook book I know will become one of my all-time favourites. There are plenty of vegan and gluten free recipes, and the author has also taken the time to put notes on the bottom of others as to how they can be adapted." Susan Keefe
Categories: Recipe Books
Sorry, comments are closed for this item.