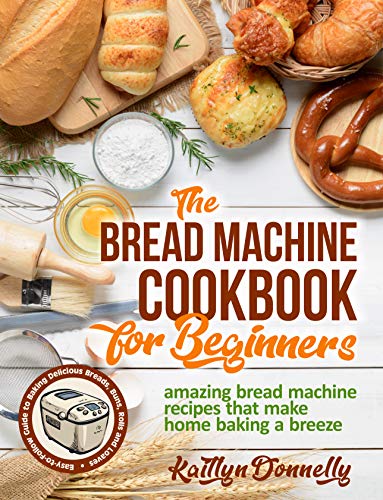 Kaitlyn Donnelly's The Bread Machine Cookbook for Beginners shows how easy it is to have freshly baked, delicious, and nutritious bread anytime.
When it comes to baking bread at home from scratch, things can get tricky. Thankfully, that's where The Bread Machine Cookbook for Beginners comes in! This guide is the first and only collection of effortless and foolproof recipes that give you delicious homemade loaves of bread every time.
Here you will find mouth-watering recipes for Mom's white bread and sweet rolls. Imagine the sights and smells of Cinnamon Rolls and Chocolate Loaf coming hot from your bread machine. There are also recipes for traditional favorites such as Italian сheese bread as well as crowd-pleasers such as spinach and feta bread or apple pecan cinnamon rolls. And it's so easy! Just add the ingredients, push a button, and imagine the compliments you'll get from your family and friends as if you'd worked long hours in a hot kitchen!
Recipes include:
CLASSIC WHITE BREAD
BREAKFAST BREAD
SANDWICH BREAD
SPICE AND HERB BREADS
VEGETABLE BREAD
FRUIT BREAD
CHEESE BREAD
GRAIN, SEED AND NUT BREAD
MEAT BREAD
CHOCOLATE BREAD
COFFEE CAKES AND SWEET ROLLS
HOLIDAY CAKES
*Every recipe lists serving quantity, prep time, cooking time, easy to follow ingredients, and preparation instructions, withimages and nutritional information to keep you on track.
Categories: Cookbooks
Sorry, comments are closed for this item.