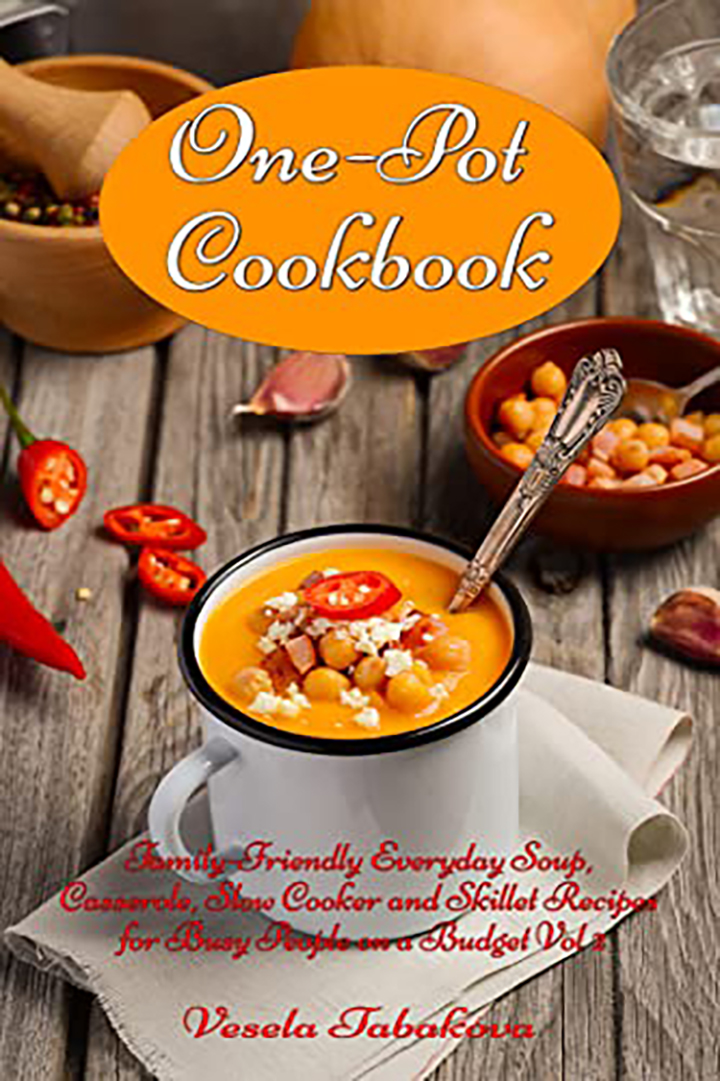 Get on Amazon
Delicious No-Stress One-Pot Dinners – Spend More Time Enjoying Your Meal And Less Time Cleaning Up!
From the author of several bestselling cookbooks, Vesela Tabakova, comes a great new collection of delicious, easy to make family recipes. This time she offers us 50+ comforting and enjoyable one-pot dishes full of your favorite vegetables, meats and legumes, that are simple and easy to cook whether you need a quick weeknight supper or a delicious weekend dinner.
One-Pot Cookbook: Family-Friendly Dinner Recipes for Busy People on a Budget Vol.2 is an invaluable and delicious collection of healthy one-pot recipes that will please everyone at the table and become all time favorites. If you're looking for easy delicious everyday recipes to help satisfy your family and your budget, this cookbook is for you.
Table Of Contents
Delicious One-Pot Meals to Please Everyone

Chicken Vegetable Soup

Slow Cooker Chicken Noodle Soup

Hearty Lamb and Vegetable Soup

Slow Cooker Corn Chowder

Red Lentil and Quinoa Soup

Slow Cooker Summer Garden Soup

Crock Pot Tomato Basil Soup

Cheesy Cauliflower Soup

Creamy Artichoke Soup

Caribbean Chicken

Mexican Lime Chicken

Peanut Butter Dump Chicken

Blue Cheese and Mushroom Dump Chicken

Pesto Chicken

Greek Chicken And Lemon Rice

Spicy Chicken And Bean Stew

Mediterranean Chicken Stew

Slow Cooker Herb Chicken and Vegetables

Chicken With Spinach and Mushrooms

Crock Pot Chicken and Leek Drumsticks

Lemon-spiced Chicken with Chickpeas

Honey Mustard Chicken with Parsnips

Andalusian Style Chicken

Hunter Style Chicken

Slow Cooked Moroccan Chicken Tagine

Slow Cooker Chicken Moussaka

Portuguese Style Chicken

Slow Cooked Chicken with Tomatoes and Artichokes

Slow Cooker Mediterranean Salmon

Greek Lamb Stew

Hearty Lamb Stew

Sweet Spiced Lamb Shanks With Quince

Slow Cooked Lamb with Red Wine Sauce

Slow Cooked Mediterranean Lamb

Slow Cooked Lamb with Lemon, Dill and Feta

Slow Cooked Beef Couscous

Beef and Root Vegetable Crock Pot

Crock Pot Lasagna

One-pot Pork Chops With Fennel and Potatoes

Pork Chops with Balsamic Roasted Vegetables

Juicy Pork Chops

One-pot Pork with Orange and Olives

Turkey Sausage and Lentil One-pot

Sausage and Vegetable One-pot

Eggplant and Chickpea Stew

Eggplant and Tomato Crock Pot

Squash, Lentil and Bean One-pot

Maple Roast Parsnip with Pear and Sage

Balsamic Roasted Carrots and Baby Onions

New Potatoes with Herbs
Enjoy this one-pot cookbook.
Categories: Recipe Books
Sorry, comments are closed for this item.