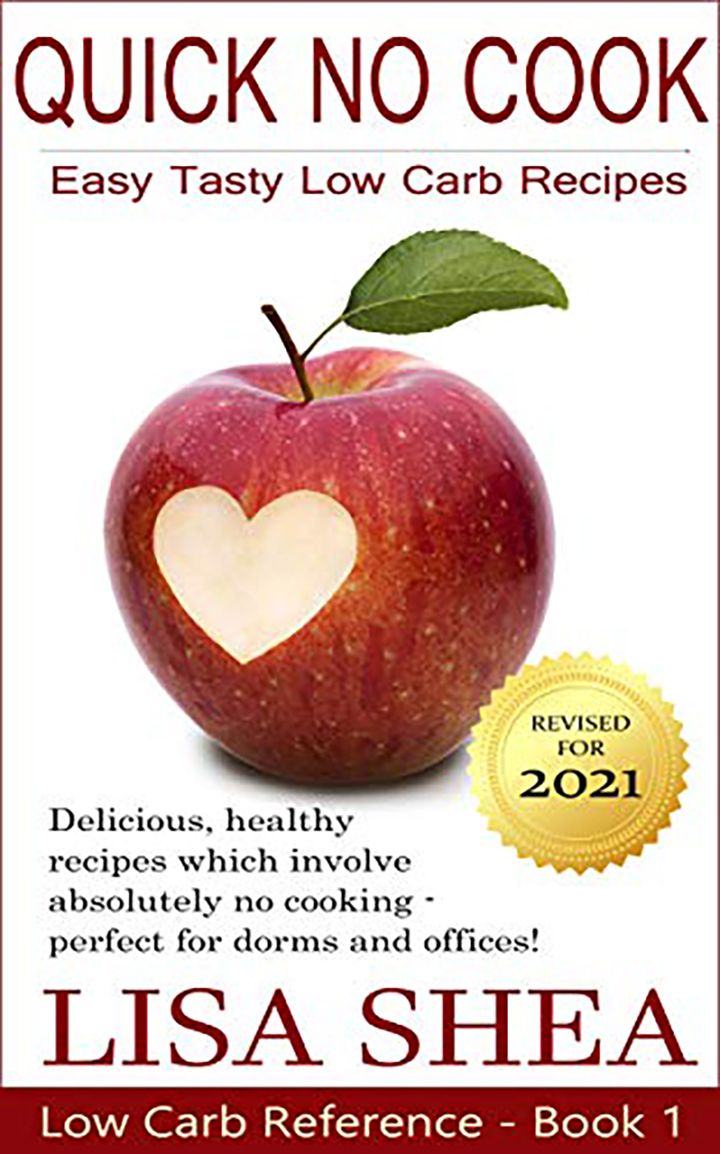 This 142-page book on Quick No-Cook Low Carb Recipes features 47 recipes ranging from easy cheese-plate ideas that any college student or after-school kid can try to more advanced recipes like tuna tartare which involve more complex flavors. It's designed to introduce eaters to new vegetables, new combinations, and outside-the-box ideas.
Explore a new recipe every day for a month and expand your menu choices!
This book provides easy ideas for preparing quick, healthy meals that you will love. Every recipe can be made without cooking. If you've only got five minutes, this book has the answer. Young children who want to eat healthy can make these dishes without any cooking. Whether you're at an office without a microwave or living in a college dorm, you can make these healthy foods to keep your body energized and happy.
These recipes are perfect in power failures and other no-power, no-stove, no-microwave situations! As long as your e-reader works, you're all set! Perfect as part of your emergency kit.
In addition to the recipes, all of my low carb books provide appendices which explain how to successfully manage a low carb diet.
Let me know if you have any questions or suggestions! I frequently update all my low carb books based on your recommendations.
* * *
Thank you so much for sharing a part of your life's journey with me! I´ve followed a low carb lifestyle since June 2003. I have enjoyed every day of it.
Low carb is not a diet of "sacrifice". My meals are rich with delicious flavors. I am always full when I finish eating. Each day I enjoy my high energy levels. Daily meals are dense in flavor and nutrients – spinach salads, mushroom omelets, tuna melts, and devilled eggs as a delicious snack. For luxurious nights out, I can relish a meal of filet mignon with asparagus. I can even enjoy homemade ice cream with ripe raspberries for dessert.
Once I cut excess sugars and starches out of my diet, I found I had far more energy to enjoy life with. The rich fiber foods have helped me sleep more soundly. The omega-3 oils keep my brain's creativity and efficiency at an all time high. I am very happy to answer any questions you might have about healthy eating.
Categories: Cookbooks
Sorry, comments are closed for this item.