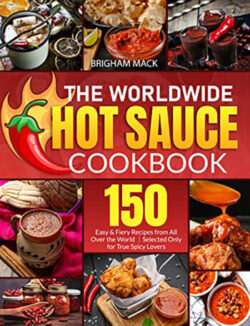 Get on Amazon
GET READY TO HAVE YOUR MOUTH ON FIRE AND ENJOY UNIQUE FLAVORS
Are you a lover of spicy foods and not afraid to taste sauces that will make you tear up?
Would you like to put a little spice in your kitchen by creating amazing hot sauces that go great on so many foods?
Spicy lovers know well how this flavor, in addition to being good for circulation, the heart and improving bowel function, can really make many dishes tasty by enhancing their flavor.
Everywhere hot peppers are used to create tasty hot sauces, combining all kinds of ingredients together to make them taste truly special.
If you want to have fun with your family and friends tasting homemade hot sauces having fun at a party, then "The Worldwide Hot Sauce Cookbook" is just the thing for you!
In this cookbook you will find out:
✅ How to create 150 amazing recipes with a step-by-step guide and easy-to-find ingredients even if you've never peeled an apple
✅ Tips for properly pairing hot sauce with different foods to ensure the success of your party
✅ A sauce expert's 9 tips for achieving truly unique flavors using extraordinary ingredients
✅ How to Recreate the world's most famous sauces in your own kitchen at home while trying traditional flavors from other places
AND MUCH, MUCH MORE!
Make one of the hundreds of sauces featured in this cookbook, invite your closest friends over for dinner, and keep some milk on hand to quench the incredible flavor you'll taste
Categories: Other
Sorry, comments are closed for this item.