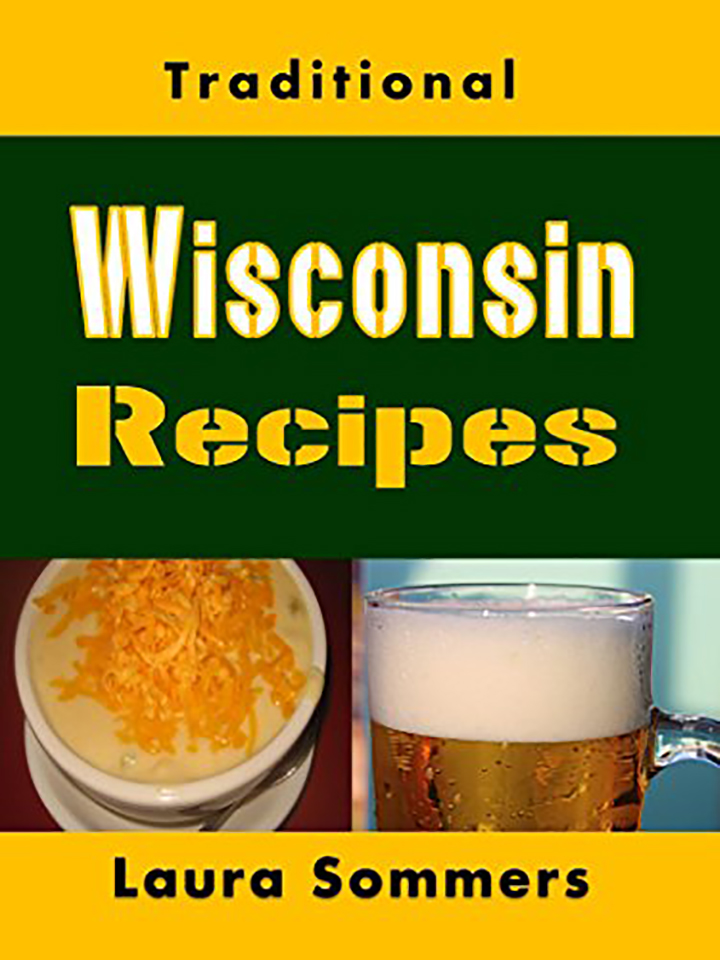 63 Traditional Wisconsin Recipes in This Cookbook
Wisconsin is located in the north-central part of the United States of America near the Great Lakes. When many people think of Wisconsin they think of cheese. Specifically they think of Wisconsin Cheddar. But Wisconsin is known as "America's Dairyland" because it is one of the nation's leading dairy producers of many different kinds of cheeses. Cheese is such an important product for resident's of Wisconsin that hundreds of Packers' fans can be seen wearing foam cheese-heads whenever a Greenbay NFL football game is on television.Wisconsin is also known for brewing beer. Milwaukee is the largest city and is one of the nation's largest producers of beers. The beer brewing influence can be tasted in much of the cuisine which features pub grub as well as beer battered faire.Many of the early settlers of Wisconsin were German and Scandinavian. This has also influenced the state foods as bratwurst is a state favorite.Wisconsin is an agricultural state with many crops being official state foods such as cranberries and sweet corn. This cookbook has all the traditional Wisconsin recipes using all the foods and products that are representative of this delicious Mid-West American state.
Wisconsin Recipes Include:
Wisconsin Bratwurst
Wisconsin Beer Cheese Soup
Milwaukee Rye Bread
Wisconsin Blue Ribbon Chili
Wisconsin Brat & Beer Cheese Dip
Wisconsin Five-Cheese Bake
Wisconsin Marinated Venison
Milwaukee Beer Batter
Green Bay Smoked Fish Dip
Green Bay Crispy Fried Fish
Green Bay Nutty Coconut Fish
Milwaukee Beer Dip
Milwaukee Apple Banana Cupcakes
Milwaukee Dogs
Milwaukee Beer Battered Grilled Cheese Sandwiches
Milwaukee Moussaka
Wisconsin Beer-Brined Chicken Drummies
Wisconsin Grilled Beer-Brined Chicken
Wisconsin Grilled Beer-Marinated Rump Roast
Grilled Backyard Beer Burgers
Green Bay Potatoes
Wisconsin Pudding
Wisconsin Holiday Fondue
Wisconsin Harvest Delight Soup
Wisconsin Apple Crisp
Wisconsin Apple Cake
Wisconsin Apple Torte
Wisconsin Chicken Soup
Wisconsin Birthday Cake
Wisconsin Three Cheese Chicken Bake
Wisconsin Cheddar Chowder
Wisconsin Cheese Cake
Wisconsin Fish Chowder
Wisconsin Dairy Punch
Wisconsin Cranberry Salad
Wisconsin Hot Beef Sandwich
Wisconsin Chocolate Almond Pie
Wisconsin Chunky Tomato Cheese Pie
Wisconsin Chicken Booyah
Wisconsin Butter Burgers
Wisconsin Cranberry Bliss Cookies
Wisconsin Homemade Cranberry Sauce
Wisconsin Cranberry Pistachio White Chocolate Bark
Wisconsin Orange-Glazed Cranberry Bread
Wisconsin Danish Kringle
Wisconsin Buffalo Macaroni and Cheese Bites
Wisconsin Fondue
Wisconsin Brie Torte
Wisconsin Pumpkin Pie Baked Brie
Wisconsin Cheesy Chicken Enchilada Dip
Wisconsin Pepper Jack Pimento Cheese Spread
Wisconsin Smoky Blue Cheese Bacon and Water Chestnut Dip
Wisconsin Spicy Cheesy Bratwurst Dip
Wisconsin Roasted Brussels Sprout and Bacon Cheddar Dip
Wisconsin Blue and Cheddar Beer Spread
Gnocchi and Triple Cheese
Wisconsin Caramelized Onion Pasta Gratin
Wisconsin Three-Cheese Lasagna
Wisconsin Cheesy Manicotti Pasta Bake
Wisconsin Cheesy Spinach and Artichoke Pasta
Wisconsin Tomato Corn Bake with Havarti
Pasta with Wisconsin Sweet Corn Gremolata
Wisconsin BBQ Corn and Gouda Grilled Cheese
Categories: Cookbooks
Sorry, comments are closed for this item.